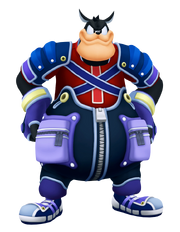 Black Pete is the main antagonist in Disney's series, comic books and movies "Mickey Mouse". He also appears as a playable character in Disney All Heroes. You can play with him in the Mickey Mouse Playset, in the adventure mode and in the toy box mode.
- Hello, there! Hah - hah - hah!
- Bye Mickey! (When mentioning Mickey)
- Let's play a game of quessing! Who is the best! Right, I'm the best! (when beating an enemy)
He unlocks his costume
He unlocks his car
He unlocks Trudi's costume
Adventure mode
Edit
Here are the missions that he can enter:
The true robber
He kicks and hits and hits with his head. Has a jump. He can throw bombs.