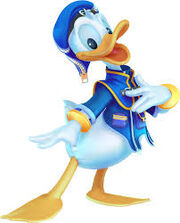 Donald Duck is one of the main characters in Disney's series, comic books and movies "Mickey Mouse". He also appears as a playable character in DISNEY ALL HEROES. You can play with him in the Mickey Mouse Playset, in the adventures mode and in the toy box mode.
- Quack - Quack! Where is the man who needs help with playing?
- Hello, Mickey Bounse! (When mentioning Mickey)
- Oh, not again! You bad uncle! (When mentioning Scrooge)
Most characters can't fly, but Donald can
He unlocks his costume
He unlocks his house
He unlocks Fethry's costume
Adventure mode
Edit
There are the adventures:
Quack - Pack
Saving the beach
Wanna fly around
He can use his hat like a boomerang. He also bites and kicks. His playset weapon is the Quackun.