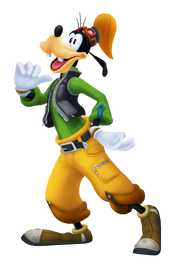 Goofy is one of the main protagonists in Disney's series, comic books and movies "Mickey Mouse". He also appears as a playable character in DISNEY ALL HEROES. You can play with him in the Mickey Mouse Playset, in the adventure mode and in the toy box mode.
- Hello there, gamers! Ready to play?
- Hi, Mickey! Wanna go fishing? (When mentioning Mickey)
- Hayaaa! (When fighting)
He is the first character in the game that has a crystal figure
He unlocks his costume
He unlocks Clarabell's costume
He unlocks PANCAKE INC.
Adventure mode
Edit
In the adventure mode he can enter the following missions:
Saving the beach
Cookietown
Welcome to PANCAKE INC.
Abillities
Edit
He can throw pancakes at his opponent. He has a jump (unlike some other characters). His weapon in the playset is the Pancake Launcher.