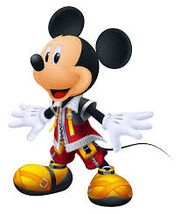 Mickey Mouse is the main character in Disney's series, comic books and movies "Mickey Mouse". He is a playable character in Disney All Heroes the Video Game. You can play with him in the Mickey Mouse Playset, in the adventure mode and in the toy box mode.
Quotes
- Oh, here you are! I've been waiting for you a year!
- Oh, gosh! (When taking damage)
Unlike most characters he has a double jump
He unlocks his costume
He unlocks his car
He unlocks his house
Adventure mode
Edit
Here are the adventures he can enter:
Saving the Beach
Mister Dracula
Oh Pluto.
He hits fast three times only when you click "Q". He also hits and kicks.