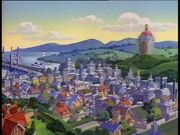 The Mickey Mouse Playset is a playset that takes you to Toontown. The playset token is shaped like Mickey Mouse's head and comes with the Starter Pack along with Mickey.
Help us - Daisy
At first - Horase
Peety trouble - Daisy
Not Again - Daisy
Meet you at the DB - Horase
DB training - Horase
Capturing Spectrus - Mini
Defeating the Beagles - Clarabelle
Capturing Peet - Fethry
New town - Daisy
Save Hary and Fastwritten - Mini
The docks - Gladstone
An Attack - Gladstone
The final battle - Clarabelle, Hary and Fastwritten
You are on a vacation in Toontown, but while you are relaxing the Phantom Blot, Peet and Spectrus work together and destroy the town. You have to defeat them!
Playable Characters
Edit
Mickey
Goofy
Crystal Goofy
Donald
Scrooge
Rockerduck
Peet
Houie, Douie and Louie
Daisy Gladstone
Horas
Clarabell
Fethry
Fastwriten
Mini
Hary