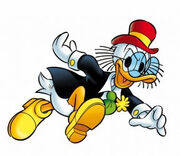 John D. Rockerduck is an antagonist in Disney's "Ducktales". He also appears as a playable character in DISNEY ALL HEROES. You can play with him in the Mickey Mouse Playset, in the adventure mode and in the toy box mode.
- Hi there! Ready for some business?
- Oh, Gosh! (When taking damage)
He unlocks his costume
He unlocks his building
Adventure mode
Edit
Here are the missions that he can enter:
Business Dash
The Lost coins
Abillities
Edit
He can use his hat like a boomerang. He also hits and kicks.