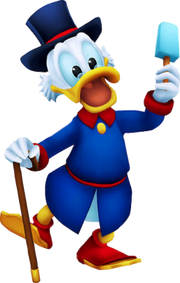 Scrooge is the main protagonist in Disney's "Ducktales". He also appears as a playable character in DISNEY ALL HEROES. You can play with him in the Mickey Mouse Playset, in the adventure mode and in the toy box mode.
- Time is money and I don't have money for spending!
- You clumsy Donald! (When mentioning Donald)
He unlocks his costume
He unlocks his money bin
He unlocks Magica's costume
Adventure mode
Edit
He can enter these missions:
The lost coins
Krez's treasure
Abillities
Edit
He hits and kicks. His playset weapon is his cane.